Because burping can cause vomiting in babies a burp cloth or a muslin square is often placed on the shoulder to protect the adult's clothing.

Pregnant women in the UK are often given a list of items that they should take with them when they go into hospital to have their baby, muslin cloths are just one of the items included on this list. Muslin cloths are used when burping a baby to catch any vomit that is produced. Although muslin cloths are widely used in the UK, they are not as effective or as attractive as burp cloths.

Burp cloths come in various shapes and sizes, the most popular fabric used is waffle weave or terry towelling as these fabrics offer greater absorbency than any other type of fabric. Burp cloths are also available for special occasions such as christenings, these burp cloths would be decorated with lace and personalised with the baby's name.

Burp cloths are widely available in North America however they have only recently started appearing in the UK. Traditional burp cloths were hand sewn by friends and family members to be presented to the expectant mother during her baby shower.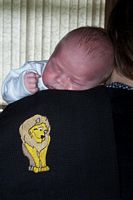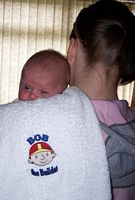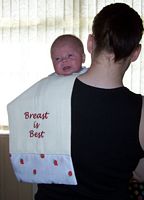 Click to view larger image, larger image will open in a new window