| | | |
| --- | --- | --- |
| | Categories | |
| | | |
| --- | --- | --- |
| | Quick Find | |
| | | |
| --- | --- | --- |
| | Embroidery Designs | |
| | | |
| --- | --- | --- |
| | Information | |
| | | |
| --- | --- | --- |
| | See Our Videos | |
| | |
| --- | --- |
| Cloth Nappies, Washable Nappies, Real Nappies | |
Why use cloth nappies?

Why not?
Well, I guess people would argue that disposables are convenient, there's no mess to deal with and are considered by many better at preventing nappy rash.

Ok Lets look at the above issues. First of all, did you know that nappy rash is actually caused by the reaction between urine and poo? So, it doesn't actually matter what type of nappy you put your baby in, if you don't change them immediately after they have 'soiled' their nappy then they will be prone to nappy rash. As for dealing with mess, well in all the years I have been using cloth nappies on my children I can honestly say I have had less leaks and soiled clothing than when I used disposables on my first son.

I think the reason for the soiled clothing was due to poorly fitting disposables. They are so inadequate that anything other than urine seems to leak out from the top and at the sides, leaving the baby with poo up their back and down their legs. This results in the baby not only requiring a bath but a full change of clothing. Considering the above, how does disposables make them harder work than cloth nappies?


Cost of washing and tumble drying over 2 ½ years
(based on the average cost of electricity and washing powder in July 2009)
Washing (4-5 kg load) 9.9p per load with an average of 3 loads per week 29.7p = £15.44 per year x 2.5 = £38.61 over 2 ½ years

Purchase Cost
The obvious one is the savings. Did you know that between birth and the age of 2½ years it would cost you around £1274.40. This is how I worked it out.
At birth you will use approximately 7 nappies a day.
7 nappies/day @ £0.20/nappy = £1.40/day
7 days/week @ £1.40/day = £9.80/week
52 weeks in a year so 130 weeks in 2.5 years
130 weeks @ £9.80/week = £1274 to spend on disposable nappies over an average child's time in nappies

If you bought 20 of the most expensive birth to potty pocket nappies at £20 per nappy, it would cost you £400. That would save you £874.00, take off the cost of washing and tumble drying over 2 ½ years £38.61, that's a total saving of £835.39, obviously if you dry your nappies out side then you'll save even more.

If you bought 20 all in one nappies at £6.99 per nappy it would cost you £139.80. This would save you £1,134.20, take off the cost of washing and tumble drying over 2 ½ years £38.61, that's a total saving of £1,095.59

If ever you needed a reason to switch to cloth nappies the cost alone would be a major consideration.
An added bonus is there is a market for second hand nappies, so once you've finished with them, if they are a decent condition you can sell them on.

The environment.
Did you know? Each year nearly three billion disposable nappies are thrown away? This accounts for around 750,000 tonnes of waste.
Disposable nappies make up about 4 per cent of all household waste and they may take up to 500 years to decompose.

Choice
When it comes to cloth nappies there is a huge choice. So you're bound to find something that suits your baby.
Cloth is so soft next to your baby's skin why would you choose anything else?

Choosing the right cloth nappy
There are quite a few factors to consider when choosing the right option for you and your baby.
How much do you want to spend?
What nappy system do you want to use?
Who will be using the nappies?
How are you going to dry your nappies?
Money is a big factor in choosing a nappy system. It's the initial outlay that puts a lot of people off. When buying disposables people don't realise just how much it's costing them because the money is spent in dribs and drabs.

Many councils run incentive schemes visit your council website and see what's on offer in your area. These schemes are designed to encourage people to try cloth nappies.

When you're expecting a baby the type of nappy your baby will be wearing may not be high on your list of priorities. However your baby will spend almost every hour for the next 2½ years wearing a nappy, so it is important that you make the right choice for both you and your baby.

What nappy system do you want to use?
A two-part system consists of a separate fitted or flat nappy and a wrap (waterproof cover).
Pocket nappies have a waterproof wrap attached to a liner and a 'pocket' to put your inserts in. This means you can wash then in two parts but they can be put on like a disposable in one part.
An All-in-one nappy has an outer wrap that is attached to an absorbent inner nappy, either permanently sewn in or fastened in with poppers.
You need to consider whether the nappies will be going to a nursery, to grandparents and how easy it will be for them to change baby's nappy.
How are you going to dry your nappies?

This can heavily influence what type of nappy you buy and how many you'll need.
Different fabrics have varying drying times. If you have a tumble drier this means you can basically buy many of the products on the market. If not, then you need to consider how long the nappies will take to dry either at room temperature or on the washing line.

Using cloth nappies what do you need?
You don't need very much to start using cloth nappies, if you bought 1 or 2 nappies a month you'd soon have enough.
You will also be able to buy different styles this will help you discover which nappy works best for you and your baby.
You'll need to think about how often you are going to wash your nappies, as this will give you an idea of how many nappies you'll need to last between washes.
If washing every other day for a newborn you will need approximately 20 nappies. If kitting out an older child you will need between 10 and 15 nappies.

As well as the nappies, you will also need:
A lidded bucket. It doesn't have to be a specific nappy bucket you may be able to pick one up cheaply from your local DIY store. The nappy bucket is the place to store your soiled nappies till washday.
A wet bag or biodegradable nappy bags to put your dirty nappies in, when you're out and about.
Liners if the type of nappy system you have chosen require them. Liners can be either washable or flushable. Liners help keep the moisture away from the baby's skin and they retain solids so that they are easier to flush down the toilet.
Booster pads. These are used if your baby is a heavy wetter or needs to wear the nappy through the night.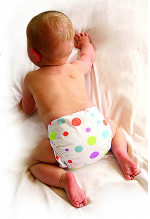 How should cloth nappies be washed?
I recommend that you pre-wash our nappies at 40 degrees Celsius before use, this will remove any loose fibres resulting from the manufacturing process.
If your nappy contains Cotton, Bamboo or hemp it will need to be pre-washed at least three times to reach full absorbency.
Nappies and the waterproof outer (wraps) can be washed at maximum temperature of 60 degrees Celsius and tumble dried on a low heat setting, however tumble-drying can reduce the a nappies lifespan.
Using non-bio washing powders can help babies with skin problems, however this can cause colours to fade over time.
Do NOT chlorine bleach.
Do NOT use fabric softeners as it reduces absorbency, use white vinegar instead, no it won't make your nappies smell like a chippy but it does help prevent nappy rash
Be careful if you are washing your nappies (especially lycra outers) with anything Velcro as it can stick to the lycra and cause a bobbling effect.
Vigorous washing cycles will cause unnecessary wear and tear on your nappies.
| | | |
| --- | --- | --- |
| | Bestsellers | |
| | | |
| --- | --- | --- |
| | Follow Us | |
| | | |
| --- | --- | --- |
| | Join Our Fanpage | |